About Us
Packair Commitment to Excellence in International Logistics Services
Our Knowledge and Experiences in International Logistics Services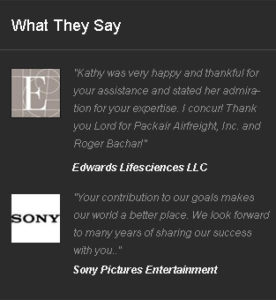 Through our high standard of care in the full range of international logistics services we provide, we have built a long lasting relationship with numerous high profile clients.
Due to the nature of our business in international commerce, we provide a vital link to total transportation with international logistics services in conjunction with freight forwarding, customs clearance, and heavy freight logistic services.
What sets Packair apart from our competitors is our unique ability to excel on special requirements as our normal practices. Nothing is too difficult for Packair…
We are the Forwarder/Broker choice for Hollywood's major studios.
We have been performing this service for over 30 years, and our individual customer representatives have experience in clearing and acquiring permits from the U.S. State Departments for over 36 years. We are also experienced in the export and importation of sensitive material for clients such as Boeing, Lockheed Martin, JPL and Lorel Optical Systems, to name a few. Packair is a choice for many commercial accounts for our quick responses and easy approaches to provide solution and technical assistance associated with international logistics services.
This is our Story in International Logistics Services
Packair Airfreight, Inc. understands how important personalized service is to our clients. Therefore, providing time sensitive movements coupled with highly competitive rates is what distinguishes us from everyone else. We have the qualifications and capabilities to provide the most complete, professional, cost-effective and efficient International  Logistics Services available.
Packair-It!