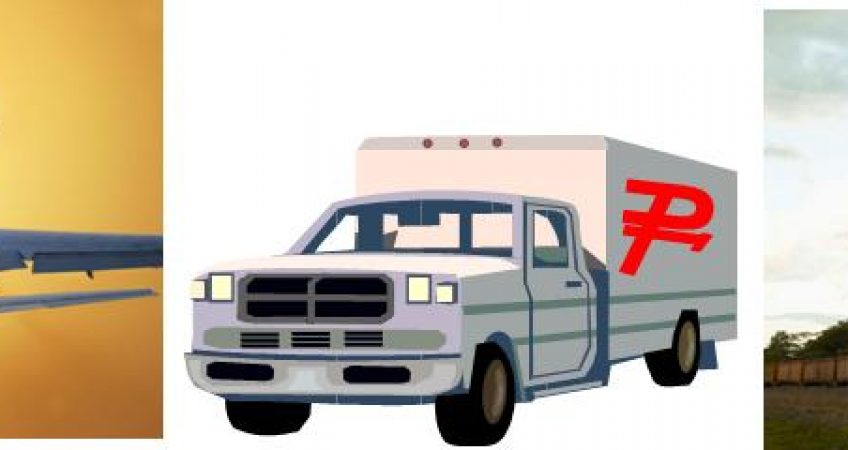 Domestic Shipping by Packair
When you hear the term "Domestic Shipping" it pretty much means shipping within your county's borders. For our purpose, that means the U.S.A. Depending on the point of origin and the destination, this can be accomplished by air, ocean, truck or rail. There are some things that may be helpful to you when planning such a move.

Shipping by air is almost always the fastest means of moving something but there are a number of restrictions. Air freight may be shipped on a passenger aircraft if the company has prior TSA approval to do so.  Not all businesses appear on TSA's certified list of "Known Shippers", so they must look to the all cargo aircraft, or begin the process to be added to that list. Individuals do not qualify for the "Known Shipper" program. The options are very limited for domestic air, and prices typically range from expensive to very expensive for all-cargo.
What are your choices for Domestic Shipping?
If it absolutely has to be there overnight, air may be your only option. However, trucking companies now, with team driving, can actually make it coast to coast in 3-4 days.  Typically, for less than a truck load (referred to as LTL,) the charges are based on three things: dimensions, weight and classification. Dimensions (length, width and height,) allow them to calculate how much space is required. Weight is governed by the DOT, and so a load must be carefully calculated, with LTL shipments to make sure it is properly distributed, and does not exceed the maximum allowable weight in accordance with the law, so this is carefully monitored.  Finally: Classification. This is where it gets tricky.  For you, not so much, give us the other two –dimensions and weight – and tell us what it is and we will find the classification.  According to the National Motor Freight Transportation Association, "Freight classification is based on weight and stow-ability. . . Freight is classified based on density, unless its stow-ability is unusual."  Unusual stow-ability would be a pallet that can't be stacked, some really odd-shaped item, etc.  This is how the trucking company can figure out what they're getting into and whether it will fit. It's not the fastest, but it is cost effective.
Then there is rail, which can be considerably less expensive, but for obvious reasons, they're pretty picky about what they'll take, how much of some items they'll allow on-board, etc.  Truck/rail combinations help get your product or shipment from your door to your client's door, whether that's in the US, Canada or Mexico. It is generally more cost-effective than trucking – if you have the time.  There can be considerably more transit time required to ship by rail, but if you have the time, it can be worth it.
Finally, let's talk briefly about Alaska and Hawaii. Again, transit time will influence your decision greatly: you can send it by air, or by ocean, and sometimes – depending on where your cargo starts out and the final destination, it could require a combination of truck, ocean or rail to complete, but it can be done.
Shipping "hazardous materials" or "dangerous goods" is do-able, but a topic too extensive to address today, and will be a blog for another day.
If you're looking for excellent customer service, competitive rates and comprehensive service,
please call Packair at (310) 337-9993 
Packair will get it there! 

Packair-It!