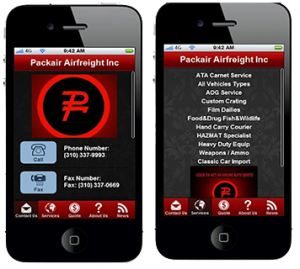 The Packair app for exports and imports is great for tracking your cargo.
Packair has a freight forwarding Android App.
Packair has over 25 years of experience in world class freight-forwarding service and excellence as well as a young and highly motivated team who goes the extra miles to fulfill our customers requests…
Over the years, we have seen how the experienced workers show the young talent the ins and outs of the business, all while our young staff pushes Packair to embark in new adventures. Such is the case with the Packair Mobile App.
Built with the general public in mind, the Packair Mobile App provides a free service
for anyone that needs to get a quote or to contact us in the moment without any hassles.
This proves to be very efficient because it saves you time and it allows you to have instant on-the-go access with Packair – your customs brokers and airfreight company.
If you are constantly importing, exporting or just moving cargo by land, air or sea, then this app is definitely for you.
Packair has been recently updating its website, blog and social network. Now with the release of the android app, Packair is embracing technology and staying ahead of the competitors.
The Packair App for Android can be downloaded here:
Don't just ship it. Don't just pack it. Pack-air-it!!!