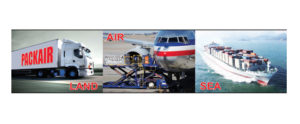 We offer worldwide freight forwarding & logistics services
Forwarding cargo is one of our specialties.
When the doors of our office open, we start our days by making sure that all of the cargo is up to date and delivered on time.
We check our emails and update our customers with the status of their shipment.  We pride ourselves in being on top of everything. We don't let the workload overwhelm us, because over the 40 years of experience, we have created a very efficient system.
Our efficiency is one of the many reasons customers keep returning to Packair.  Another reason is because Packair cares to establish relationships. You will establish a good working relationship with your agent, and you can always ask for him or her by name. The truth is that most Airfreight Forwarding / Customs Brokers companies out there just do not care the same way Packair cares.
One of our secrets is that our employees are happy to work at Packair, and they LOVE what they do. It is only natural that when you call, our agents are in a great mood and ready to provide you with the best service possible!
Ask yourself – how much better it is to work with people that care for you, for your cargo and for shipments?
Click Here to read of our drivers- the people that deliver your cargo.
Visit Our Official Site – for great deals and a free quote.
Don't just ship it, Packair it!